Events
Normally SRE Monthly Meetings Held the 2nd Tuesday of each Month (except Jun-Aug).
Normal Monthly meetings begin at 11:00 for our SRE Business Meeting and then around 11:30 for the Technical Presentations will begin.
See below for upcoming event and exact Date, Time, & Location because they may vary.
June 20th:
SRE Huntsville Chapter will be hosting the 2023 RAM Summer Symposium this year.
Where: Brahan Springs Park at Pavilion 9 (it's the big pavilion that is attached to the bathrooms)
Address: 3771 Ivy Ave SW, Huntsville, AL 35805
When: Tuesday, June 20, 2023
Time: 11:30am -1:30pm
You are welcome to bring your children to this event where they can enjoy some summer fun at the playground and the splash pad.

2023 SRE RAM Symposium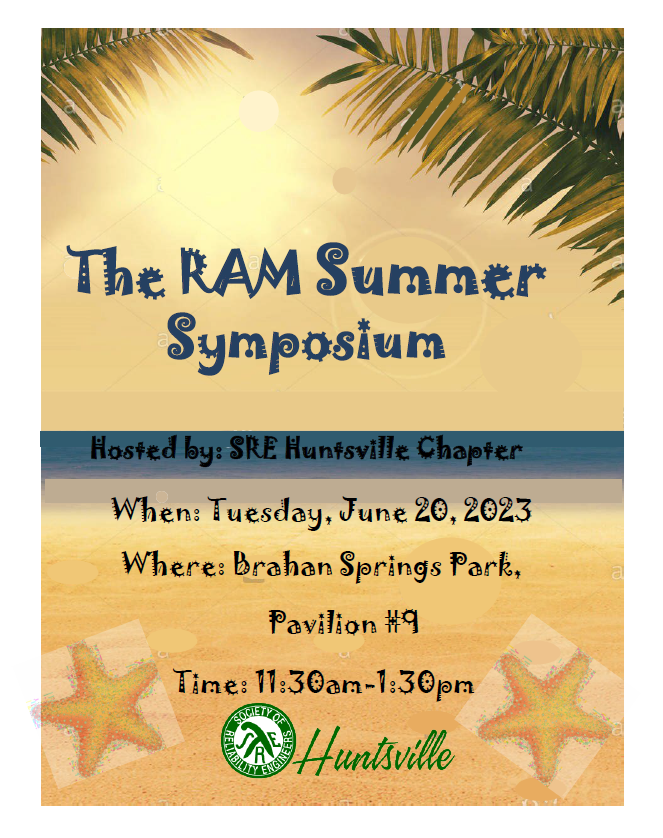 Visit Our Ram Training Summit Page to Learn More Details About our RAM Training Summit (Our Biggest Event of the Year)
Previous Meetings & Presentation If Available:
14 March 2023 Quinn Slaugenhoupt
"Spaceflight in the Last Five Years"
10 March 2020 Dr. Fayssal Safie
"Lessons Learned in Physics-Based Reliability"
13 Novemebr 2018 Arron Young
13 Novemebr 2018 Arron Young
"Component Specific Environmental Conversion"
11 September 2018 APT Research, Inc.
"Uniqueness and Unison of Safety and Reliability"
10 April 2018 Siemens Company
"PHM Technologies Made Demonstration"
13 February 2018 Nathan Rigoni
"Computer Learning Algorithm for Records Evaluation Overview"
12 October 2017 G. Spencer Hatfield
"A Reliability Analysis of EEE Parts Grades"
14 September 2017 Dr. Bill Wessels
"The Bootstrap Statistical Approach – Defensible or Hoax"
14 February 2017 Daniel Sillivant
"Topic to be Named"
10 January 2017
Dr. Bill Wessels – Stress-Strength Risk-Based Reliability Fatigue Model
13 Decemebr 2016
SRE Christmas Reception
In lieu of a regular monthly meeting, the SRE Huntsville Chapter will sponsor a come and go Christmas Reception.
December 13, 2016 from 11:30 to 12:30 in Bldg 5419.
Please RSVP to (Mary Ann [email protected] or Jessica [email protected]) by December 6, 2016 if you plan to attend.
23 June 2016
June 2016 SRE Summer Symposium
SRE Summer Symposium will be on June 23rd, at the NASA Recreation Area.
Food and drink will be provided, details to follow.
In conjunction with the Symposium the AMRDEC RAM and NASA Reliability Offices are also invited to attend.
10 May 2016
Mr. Mohammad Al Hassan of Bastion Technologies Presentation Topic Title
"Source Data Applicability Impacts on Epistemic Uncertainty for Launch Vehicle Fault Tree Models"
12 April 2016
Daniel Sillivant Presentation Topic Reliability Block Diagrams
8 March 2016
Jim Bartlett will present "RAMS 2016 and the SRE BOD Meeting"
9 February 2016
Dr. Paul Ruffin Technical Presentation
8 September 2015
Mr. Pat Lawler presents The Recursive Property of the Binomial Distribution
18 June 2015
SRE Summer Symposium
11 May 2015
Mr. Mark Sims present part 2 "Reliability Growth"
14 April 2015
Mr. Mark Sims present part 1 "Reliability Growth"
10 March 2015
Mr. Jon Tegtmeier presents "Compound Conservatism"
9 September 2014
Mr. Jim Bartlette presents "Reliability and the Intuition"
13 May 2014
Dr. Bill Wessels presents "Reliability Life-Cycle Affordability"
8 April 2014
Mr. Wayne Bradley presents "HALT/HASS"
11 March 2014
Dr. Fayssal Safie presents "Reliability Engineering – Discussions and Clarifications"
8 April 2014
Mr. Wayne Bradley presents "HALT/HASS"
"
[/coffee_shortcode_feature]

Check out more information on our events and let us know you're coming on Eventbrite!